Recruiting: Junior Project Advisor for Youth and Disarmament (International UNV) – KATHMANDU
UNRCPD is looking for a Junior Project Advisor for Youth and Disarmament, Kathmandu, Nepal, on a 6-month contract basis (with possibilities of extension up to 1 year).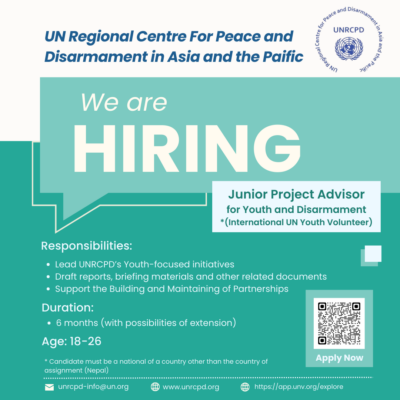 The role of Junior Project Advisor for Youth and Disarmament involves aiding the UNRCPD with the execution of initiatives targeting young people. The individual will help grow and enhance the network of young individuals engaged in disarmament and arms control across Asia and the Pacific. This position aims to boost involvement from a wide spectrum of young people from the Global South, such as young women, indigenous youngsters, and those with disabilities, and to leverage the untapped capabilities of the region's youth.
In addition, the Junior Project Advisor for Youth and Disarmament will assist the UN Youth Champions, under the banner of UNODA's #Youth4Disarmament Initiative, with their Disarmament project activities within the region. Responsibilities include creating and sharing the application invitation, aiding in the selection process of candidates, and contributing to the creation of content for social media. This individual will be an integral part of a versatile team, necessitating a strong inclination and ability to be an effective team player and ally.
Requirements:
A bachelor's degree (or equivalent) is required.
Applicant must be between 18-26 years of age at the time of application.

1 years of experience in supporting programme implementation, advocacy, capacity development and working with youth on social sciences, development and/or peace and security is required. 

Experience in designing and implementing/facilitating workshops and/or capacity development exercises, including peer-to-peer education and targeting youth audiences is required.

Experience and knowledge on meaningful youth engagement, including in the context of the Youth, Peace and Security agenda. Understanding of disarmament, arms control and/or non-proliferation issues would be an asset.

Prior experience of engaging with local, regional and or national government or authorities, UN agencies and familiarity with ODA's work and mandate would be an as-set.

Previous experience as a volunteer and/or experience of another culture, (i.e. studies, volunteer work, internship) would be highly regarded.
Special Notice: This post is an "International Youth UNV" post. Applicants must be a national of a country other than the country of assignment (Nepal). Application deadline is 17 November 2023.
Follow the link to find out more and apply: Junior Project Advisor for Youth and Disarmament | UVP (unv.org)