Director of UNRCPD, Mr. Deepayan Basu Ray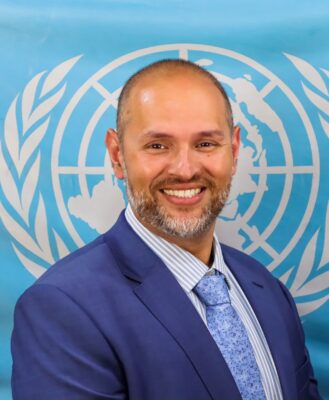 Mr. Deepayan Basu Ray of Canada and the United Kingdom has assumed the position of Director of the United Nations Regional Centre for Peace and Disarmament in Asia and the Pacific, of the United Nations Office for Disarmament Affairs, as of 26 June 2023.
Mr. Basu Ray has worked for over 20 years on arms control, sustainable development, human security, conflict and armed violence reduction, risk analysis and mitigation, tackling gender-based violence, and development assistance. Prior to joining the UNRCPD, he provided technical assistance to governments and civil society organizations in diplomatic processes such as the Arms Trade Treaty, the UN Programme of Action on SALW, and the UNFCCC Conference of Parties (COPs).
Mr. Basu Ray has a strong track record in strategy development and delivery, programme management, capacity building and training, and research. He is the author of several research and technical reports focused on human security, the link between development and arms control, indepth gap-analyses of laws and legislation, and the importance of public engagement to mobilize action on climate adaptation. He has developed and fostered strong and successful partnerships with a wide range of stakeholders, including political leaders, government officials, representatives of international organizations, and civil society partners and experts.
With extensive experience in the Asia-Pacific region, he has worked closely with partners across Pacific Island, South and Southeast Asian countries to strengthen their national systems, laws and legislation to ensure compliance with a range of UN treaties and agreements focused on arms control, strategic trade, and climate change.
Mr. Basu Ray is a dual national of Canada and the United Kingdom, and holds an MA in International Relations (Sussex University, UK) and a BA in Political Science and Environmental Studies (York University, Canada). He is fluent in Bengali, English, and Hindi.