Recruitment: Administrative Assistant (GS-5) Temporary (TJO) – KATHMANDU
UNRCPD is looking for an Administrative Assistant (GS-5), Kathmandu, Nepal, on a temporary basis.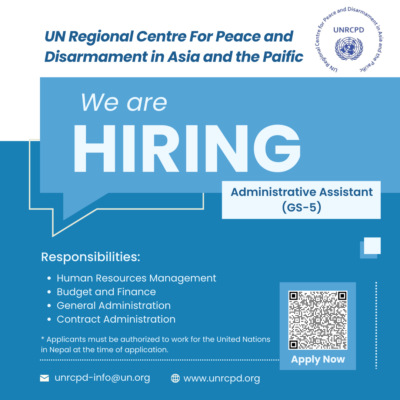 The United Nations Regional Centre for Peace and Disarmament in Asia and the Pacific (UNRCPD) is a regional arm of the United Nations Office for Disarmament Affairs (UNODA) and assists 43 countries in the Asia-Pacific region to achieve their peace, security, and disarmament goals, through provision of substantive support; coordination of activities at the sub-regional, regional and international levels; and information sharing on global and regional activities. 
The Administrative Assistant is responsible for supporting the UNRCPD, located in Kathmandu, Nepal, in the implementation of general administrative, financial, and human resource management tasks. S/he will contribute to establish and maintain efficient administrative control mechanisms to ensure compliance with UN administrative, financial and human resources rules and procedures. 
The Administrative Assistant assists in managing and addressing day to day operational tasks and will contribute to the quality and efficient delivery of operational activities by UNRCPD Nepal. S/he will be a member of a multi-functional team and requires the desire and the capacity to be a strong team member and supporter. 
Prior experience with UMOJA or similar ERP system is desirable and is considered to be a valuable asset. Prior experience on administrative functionalities with the United Nations, UN Programmes and Funds, and/or other similar inter-governmental organization is desirable.
Special Notice: Applicants must be authorized to work in Nepal at the time of application. Job openings advertised on the Careers Portal will be removed at 11:59 p.m. (New York time) on the deadline date. The deadline date is 20 November 2023.
Click the link to find out more!
https://inspira.un.org/psc/UNCAREERS/EMPLOYEE/HRMS/c/UN_CUSTOMIZATIONS.UN_JOB_DETAIL.GBL?Page=UN_JOB_DETAIL&Action=A&SiteId=1&JobOpeningId=221175&PostingSeq=1