Youth-led Policy Advocacy Training Program Pioneered in the ROK
10th August 2021
By Seihoon Lee, "Mark" Min Seong Kim
The importance of youth participation in the policy decision-making process has been affirmed time and time again within the UN body and national governments. However, youth participation is much easier said than done. Indeed, constraints in forms of limited resources, training, and opportunities impede youth from making meaningful contributions to the global discourse on peace and security.
Throughout last year, the University of Pennsylvania Policy Consulting Group (PPC) was tasked with overcoming such barriers and creating breakthroughs in youth participation in South Korea. As a leading US-based undergraduate student organization dedicated to public interest policy advocacy, PPC has completed more than two hundred successful policy meetings with US Senators, Congressional Representatives, staffers, UN Ambassadors, and diplomats and enjoyed partnerships with the leading NGOs, nonprofits, and UN offices. As a member of the Global Coalition on Youth, Peace, and Security, we especially felt that it was our responsibility to help facilitate the growth of young activists and advocates in this region.
After our initial consultations with student organizations based in Seoul, we identified the lack of organized opportunities for youth to engage in policy issues as a key challenge. Another prominent issue was the almost nonexistent capacity training opportunities, which forced youth to perceive the policy world as foreign, distant, and overly technical.
Since the beginning of this year, we have prepared a policy advocacy training program for South Korean youth as a solution of bridging this large gap between policymakers and young people. After successfully completing a pilot program with high school leaders, we organized a six-week-long, intensive capacity training program titled "ROK University Students Policy Advocacy Training Program" in partnership with the Coalition for Our Common Future (COCF), a UN Department of Global Communications (UNDGC) and UN Framework Convention on Climate Change (UNFCC) associated NGO based in Seoul.
After a competitive selection process, PPC and COCF selected fifteen university leaders in South Korea and divided them into five different groups based on areas of interests: human rights, disarmament, peace, environmental justice, and climate change. Throughout the six-week-long program, PPC board members and staff provided weekly mentoring sessions and feedback on the students' policy research. Although there was a large learning curve to fully comprehending each policy area, the participants awed us with their tireless passion for accurate research and creative insights every step of the way.
One common challenge that the participants faced was understanding the technical and legal jargons such as pertinent international law, UN, and treaties. To answer such questions that we as non-practitioners are not qualified to fully answer, PPC and COCF organized lectures sessions and invited distinguished experts from the UN Regional Centre for Peace and Disarmament in Asia and the Pacific (UNRCPD), UN Department of Political and Peacekeeping Affairs (UNDPPA), Global Coalition on Youth, Peace, and Security (GCYPS), UN Office of the High Commissioner for Human Rights, ROK Ministry of Foreign Affairs, and Global Green Growth Institute as guest speakers. The highly interactive lecture presentation sessions allowed the participants to actively ask questions and integrate the experts' insights and feedback into their policy proposals.
Once the research was finally completed, it was time for the university participants to present to the leading policymakers. On June 26th, PPC and COCF hosted the final policy proposal presentation event with distinguished guests from UNRCPD, UNDPPA, GCYPS, OHCHR Seoul Office, ROK Ministry of Foreign Affairs, and the Global Green Growth Institute. Although the presentations felt nerve-wrecking at first, every team provided stellar insights and received high acclaim from the policy experts from the UN and ROK Ministry of Foreign Affairs, many of whom promised to consider implementing the participants' policy recommendations and provide support with potential follow-up projects. As mentors, we were immensely heartened to see the empowered participants present their policy proposals and enjoy rich discussions with the practitioners as advisors and partners.
This six-week program was the first time for a youth-led organization to implement the Youth, Peace, and Security agenda and UN Security Council Resolution 2250 on Youth, Peace, and Security in South Korea. Our experience was only a start, and we hope that it will spur further youth activism both in and outside the Northeast Asia region. Only with other capacity-training initiatives can youth be equipped with crucial skills and opportunities necessary to overcome the challenges that have hindered youth participation in the policymaking process. By doing so, we can – and must – empower youth to make substantial contributions to the global discourse.
We thank the Coalition for Our Common Future, panelists, and, of course, our amazing team members in ROK – especially Seungyun Lee, Sieun Lee, and In Yeol Yeo. Above all, we are sincerely grateful for the UNRCPD team's warm support and going out of their way to support our youth program. We especially encourage all young people in the region to reach out to UNRCPD for creative collaborations and join the UNODA's Youth4Disarmament Initiative.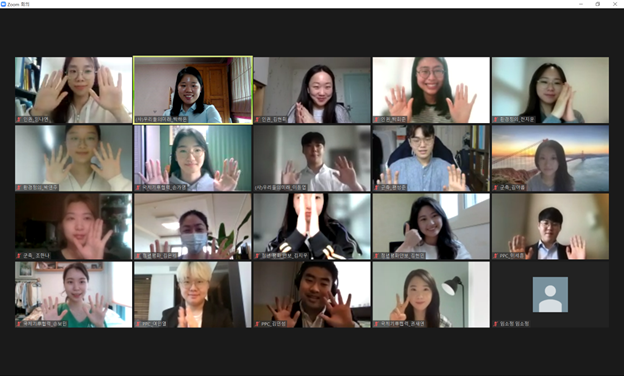 PPC members and participating students wave at the camera for a group picture during the orientation.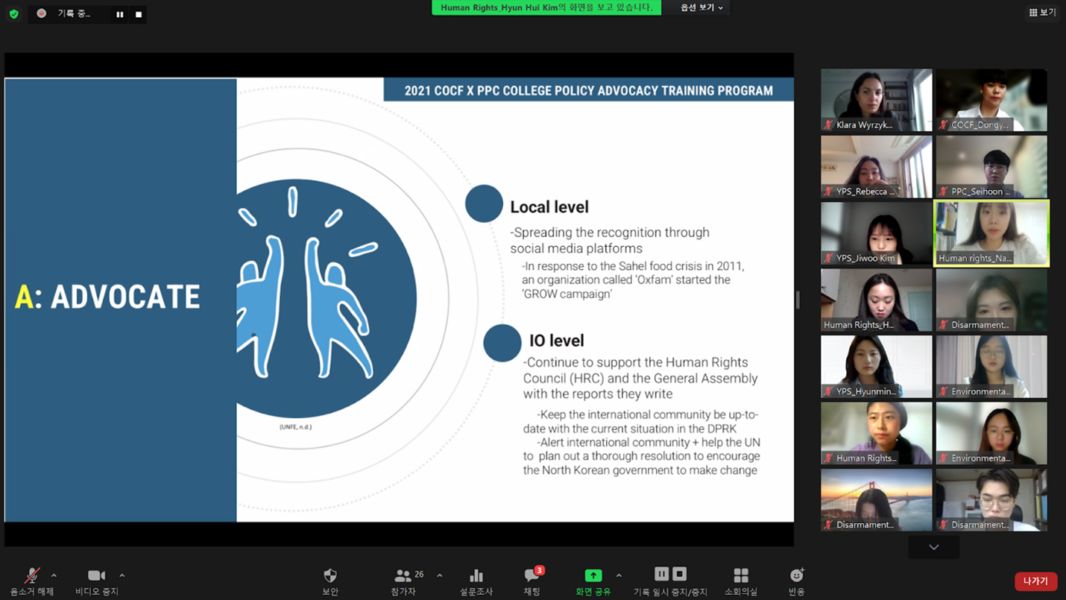 At the final policy proposal presentation event, the DPRK Human Rights team called on the international NGOs and multilateral bodies to deter human rights violations and engage in strategic advocacy in support of persecuted communities within the DPRK.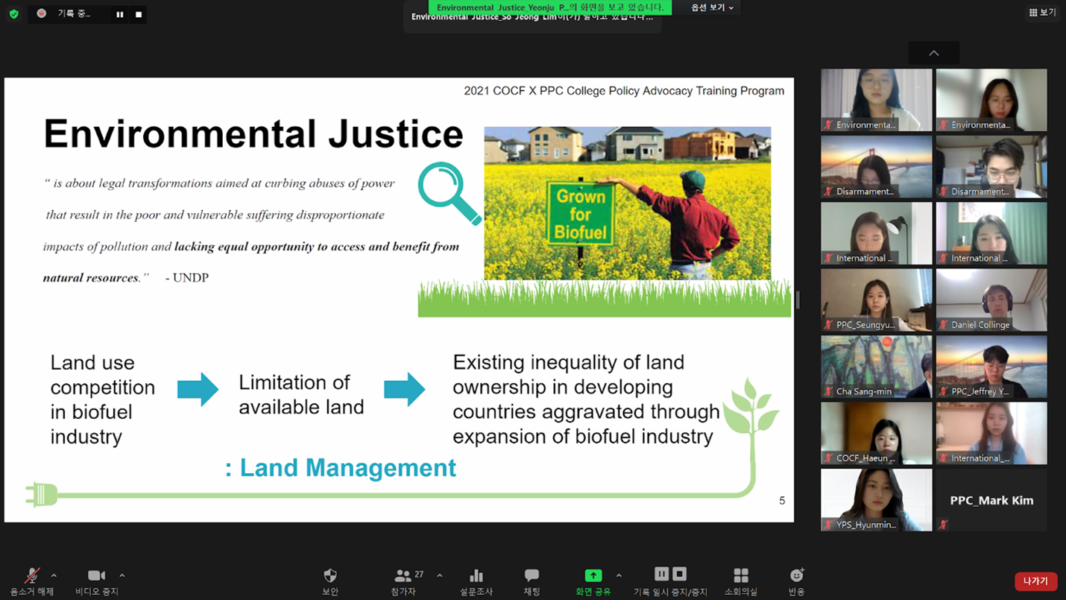 The Environmental Justice team highlighted an absence of legal framework and system capable of guiding land exploitation for biofuel.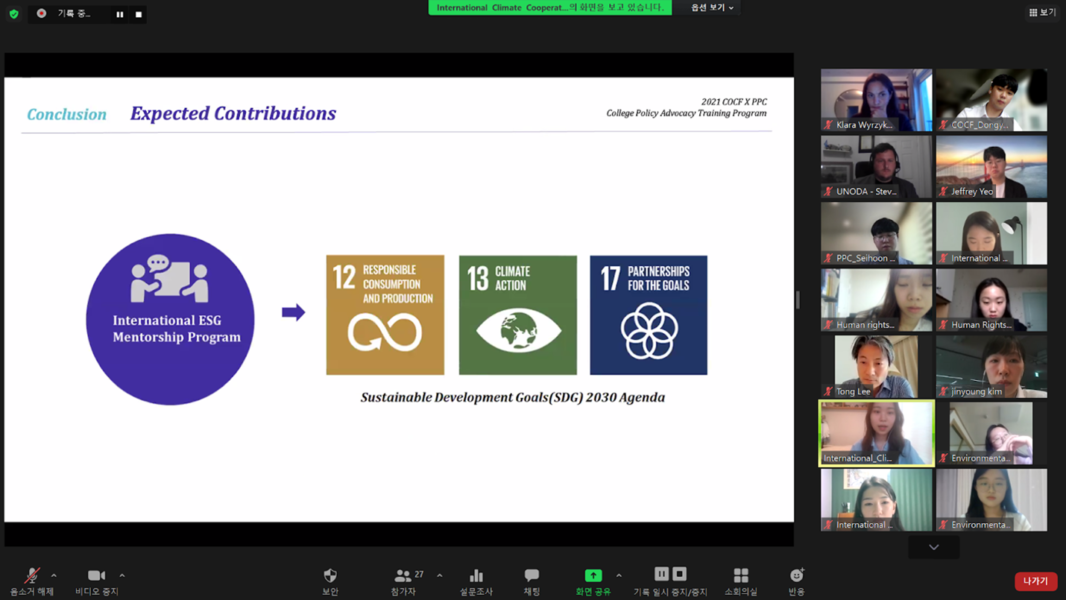 The International Climate Cooperation team highlighted that many corporations lack the capacity to incorporate the ESG in corporate programs and proposed a mentorship program that bridges the gap in ESG implementation between corporations in the developing and developed countries.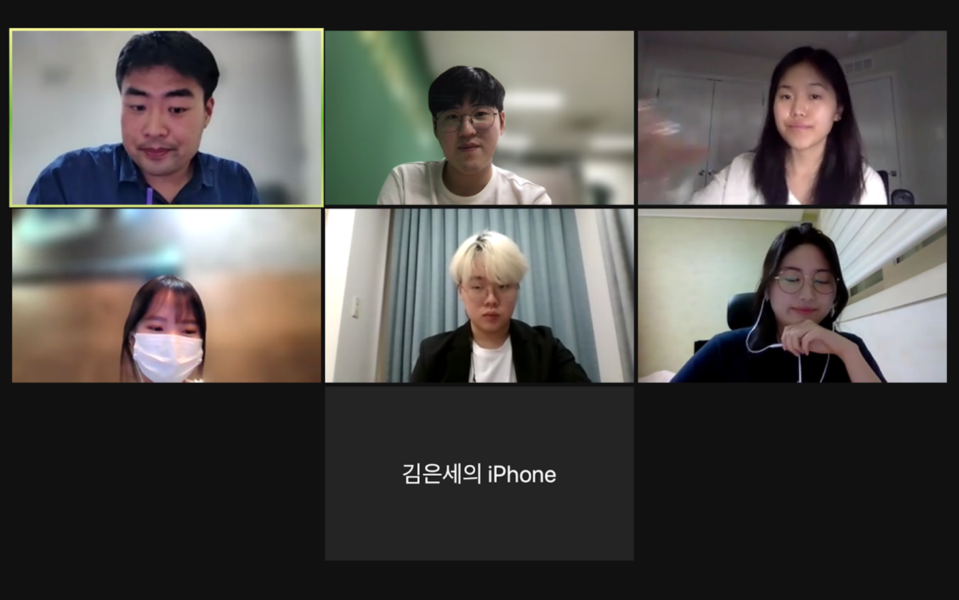 PPC members and the YPS team students engage in a weekly mentoring session via Zoom.
Ida Scarpino of UNRCPD speaks as a guest speaker at a lecture session and quizzes the participants through an interactive Zoom presentation. [source: Penn Policy Consulting, UNRCPD]