Workshop on Capacity Building for the Programme of Action and the Arms Trade Treaty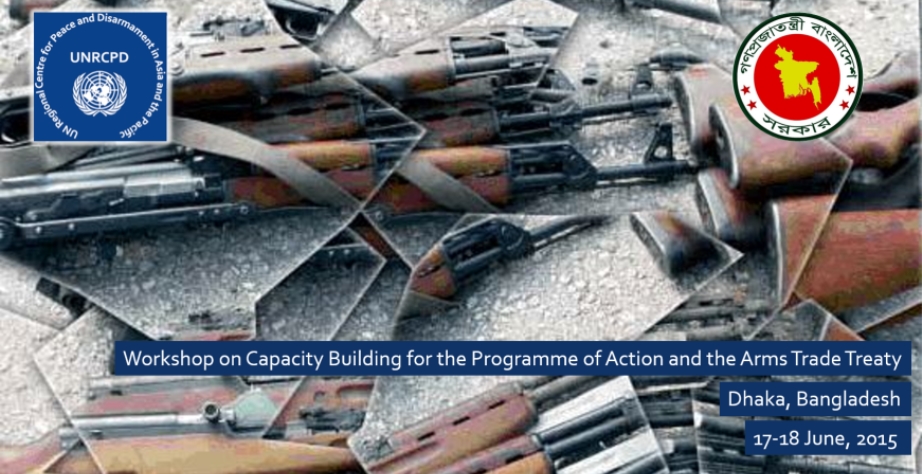 Location:
Dhaka, Bangladesh
Meeting Hosted By:
Government of Bangladesh
Meeting Supported By:
UNSCAR
UNRCPD, in cooperation with the Government of Bangladesh, organized a workshop in Dhaka on the UN Programme of Action (PoA) and the Arms Trade Treaty (ATT). The purpose of this workshop was to assist the national ministries and agencies of Bangladesh involved in the control of small arms and light weapons, with a view to enhancing the national capacity to effectively implement the PoA and, in the future, the ATT. Bangladesh became a signatory state to the ATT on 23 September 2013.
The workshop was attended by national representatives and international experts who shared best practices on policies and technical issues related to the implementation of the PoA, ATT, International Tracing Instrument and the International Standards on Small Arms Control, as well as discussed ways for their implementation in Bangladesh. The technical part of the meeting focused in particular on sharing of best practices in areas of physical security and stockpile management, marking, recordkeeping and tracing of small arms and light weapons.
This workshop is part of a wider UNRCPD programme on promoting ATT ratification, accession and PoA implementation in the Asia-Pacific through building capacity and sharing best practices. It was made possible through funds made available by the United Nations Trust Facility Supporting Cooperation on Arms Regulation (UNSCAR).
Meeting hosted by:
Government of Bangladesh