UNRCPD Presents to the First Committee of the 68th UN General Assembly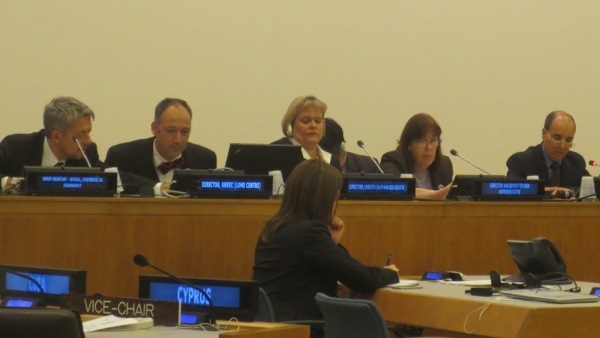 Location:
New York, U.S.A.
On 28 October 2013, Ms. Sharon Riggle, Director of UNRCPD, presented on behalf of the Regional Centre to the First Committee to the 68th General Assembly.
Speaking as part of the Regional Disarmament and Security cluster of the 18th Meeting of the First Committee, alongside Director and Deputy to the High Representative for Disarmament Affairs, Ms. Virginia Gamba, and the Directors of the UN Regional Centres in Lima, Peru and Lomé, Togo, Ms. Riggle reported on the activities of UNRCPD and introduced future plans and projects.
UNRCPD Activities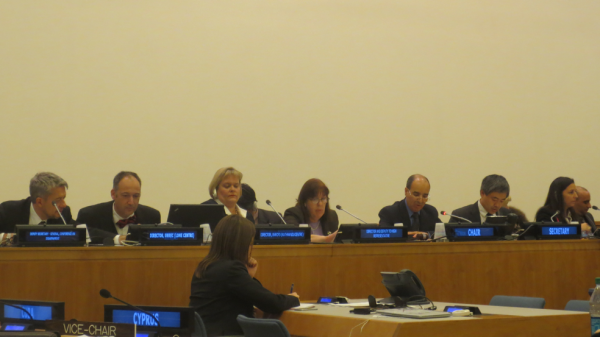 UNRCPD detailed its extensive efforts to promote peace, security and disarmament during its fifth year being based in the Asia-Pacificregion. Of note were UNRCPD's efforts in the fields of dialogue fora, bilateral capacity building, treaty support, and peace and disarmament education. The First Committee heard about the success of UNRCPD's long-running annual events, the UN Conference on Disarmament Issues, now entering its 25th year, as well as the UN-Republic of Korea Joint Conference on Disarmament and Non-Proliferation Issues. Also highlighted were recent activities at the regional level including capacity-building exercises, notably the UNRCPD Workshop on PoA Implementation: Building Capacity in Small Arms and Light Weapons, as well as the First and upcoming Second Asia Regional Meeting to Facilitate Dialogue on the Arms Trade Treaty.
UNRCPD detailed its strategic vision to engage in more direct, technical assistance on disarmament issues in the region. Recent efforts in partnership with the Government of Nepal related to implementation of the Biological Weapons Convention, as well as an upcoming initiative with the Government of Myanmar on the implementation of the UN Programme of Action (PoA) on small arms and light weapons were noted to this effect.
For press information from the First Committee session, click here.