Taking stock of the series of events on gun violence and illicit small arms trafficking from a gender perspective in Asia-Pacific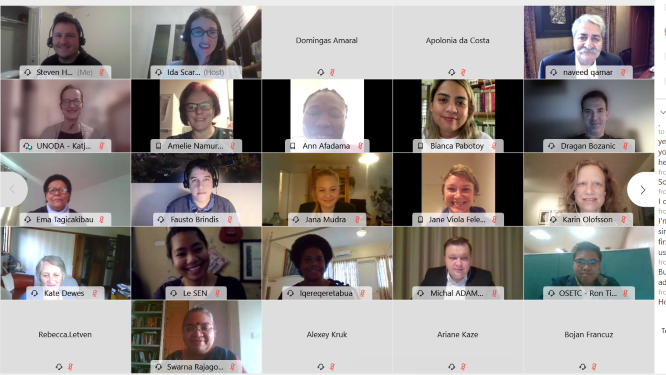 Location:
online via cisco webex
Meeting Supported By:
IANSA
Marking one year since the conclusion of the workshop series on "Gun Violence and Illicit Small-Arms Trafficking from a Gender Perspective" conducted in Asia-Pacific over the period of July 2018 – March 2020,  the United Nations Regional Centre for Peace and Disarmament in Asia and the Pacific (UNRCPD) organized a stocktaking webinar gathering the members of parliament and representatives of the civil society who participated in the different workshops, to reflect on the progress made in promoting a gender-responsive framework in small arms control and complementary agendas, at the national and regional level. The webinar, organized in partnership with the  International Action Network on Small Arms (IANSA), was held on 8 March 2021, in commemoration of the International Women Day.
The webinar convened parliamentarians and representatives of civil society organizations from 12 countries of the region: Afghanistan, Bhutan, Cambodia, Fiji, India, Lao People's Democratic Republic, Nepal, New Zealand, Pakistan, the Philippines, Sri Lanka and Timor-Leste, as well as experts from the United Nations Office for Disarmament Affairs and the Parliamentary Forum on Small Arms and Light Weapons.
This webinar was made possible with financial support from the European Union, as part of a global project in support of gender mainstreamed policies, programmes and actions in the fight against small arms trafficking and misuse.