Southeast Asia Workshop on Building Capacity for the Implementation of the Arms Trade Treaty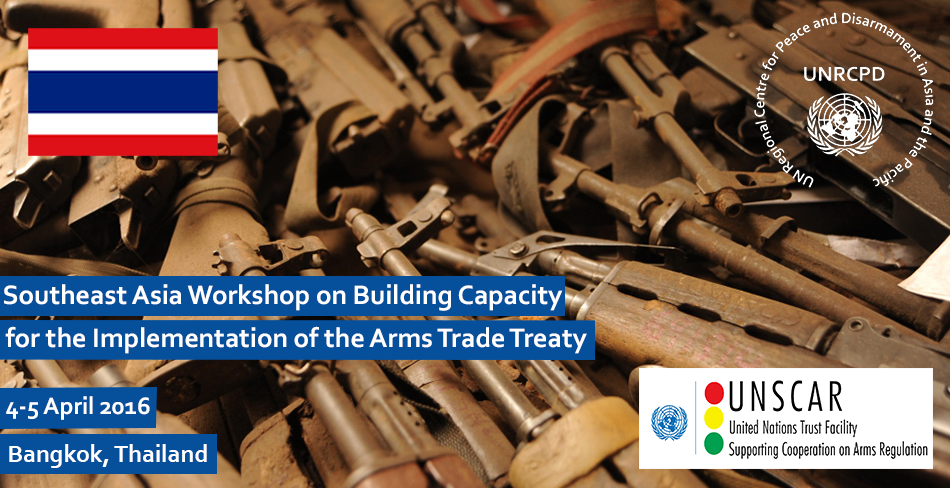 Location:
Bangkok, Thailand
Meeting Hosted By:
The Government of the Kingdom of Thailand
Meeting Supported By:
UN Trust Fund Supporting Cooperation in Arms Regulation (UNSCAR)
The UNRCPD, in cooperation with the Government of Thailand, held a workshop on building capacity for the implementation of the Arms Trade Treaty (ATT) in Bangkok on 4-5 April 2016.  The workshop brought together government experts in arms transfer controls from ASEAN Member States and Timor-Leste as well as representatives from various international institutes, non-governmental organizations, and the United Nations, providing an opportunity for participants to exchange views and share experiences on preparations for the future implementation of the ATT.  With approximately 35 participants attending, the workshop promoted regional dialogue and enhanced the capacity of participating governments in meeting ATT provisions, particularly on national control systems for conventional arms transfers and reporting.
Expert presentations were delivered by representatives of the Philippines, Cambodia, Thailand, Greece, Australia, the United Nations Office for Disarmament Affairs (UNODA), Small Arms Survey, and RAND Corporation.  Among the issues discussed during the presentations were the potential benefits and challenges of joining the ATT, practical steps towards joining the ATT, options for assistance in export and import controls, and the development of national strategies.
The workshop also included a separate side event regarding the Implementation of United Nations Security Council Resolution 1540 (2004), offering an opportunity to address issues of national export controls and other measures to prevent non-state actors from acquiring access to materials that can be used in the production of weapons of mass destruction.
Meeting hosted by:
Government of the Kingdom of Thailand
Meeting funded by:
UN Trust Fund Supporting Cooperation in Arms Regulation (UNSCAR)