Regional Training Webinar to Support the Establishment and Maintenance of Gun-Free Zones in Asia-Pacific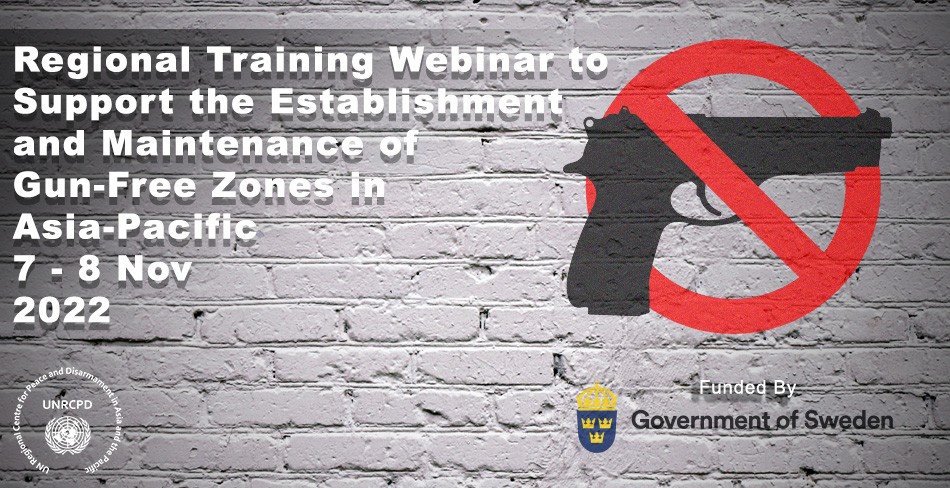 Meeting Hosted By:
UNRCPD
Meeting Supported By:
The Government of Sweden
Government Officials and Civil Society Representatives from Asia-Pacific Receive Hands-on Training on Gun-free Zones
Start Date: Nov 7, 2022
End Date: Nov 8, 2022
On 7-8 November 2022, the United Nations Regional Centre for Peace and Disarmament in Asia and the Pacific (UNRCPD) conducted a practical training webinar on supporting the establishment and maintenance of gun-free zones (GFZs) in Asia-Pacific. The event was a follow-up to activities conducted earlier in the year, which had introduced delegates from regional countries and organisations to the main concepts behind GFZ initiatives, based on frameworks outlined in the 2014 United Nations Office for Disarmament Affairs publication Guidelines – How to establish and maintain gun-free zones. The aim of this most recent webinar was to deepen the previously imparted knowledge by focusing on practical examples and encouraging participants to consider context-specific factors in the distinct stages of GFZ programming.
The webinar marked the end of UNRCPD's Supporting the Establishment and Maintenance of Gun-Free Zones in Asia-Pacific project, funded by the Government of Sweden, with the aim of generating the foundations to guide and inspire real-world initiatives in target countries. The webinar drew over fifty registrations from Bhutan, Fiji, Nepal, the Philippines and Sri Lanka, alongside representatives from relevant organizations in Burundi and South Africa, majority of whom also participated in various activities of the event.
Through two sets of group discussions, held over two days, where participants were asked to go through all together four fictious case studies – two cases where GFZs had been thought about but not implemented and two, where the imaginatory communities had implemented GFZs – all participants got a better understanding about the nature of these initiatives in different contexts. The online training also strengthened the participants' understanding of the areas of convergence between issues related to armed violence, the Sustainable Development Goals (SDGs), and the Women, Peace and Security (WPS) agenda. The event concluded with a MOSAIC-based exercise on how to develop a National Action Plan (NAP). Participants drafted a model NAP matrix outlining operational objectives, targeted activities, and lead agencies for the different functional areas of a GFZ NAP, including planning, programming, implementation and evaluation. It is hoped that the document will serve as a policy brief for future work in this area, flexible to national and local needs of different communities.
For further information, please contact Ms. Elli Kytomaki, Associate Research Officer at UNRCPD, elli.kytomaki@un.org.