In-country training programme on gender mainstreaming small arms control in Dili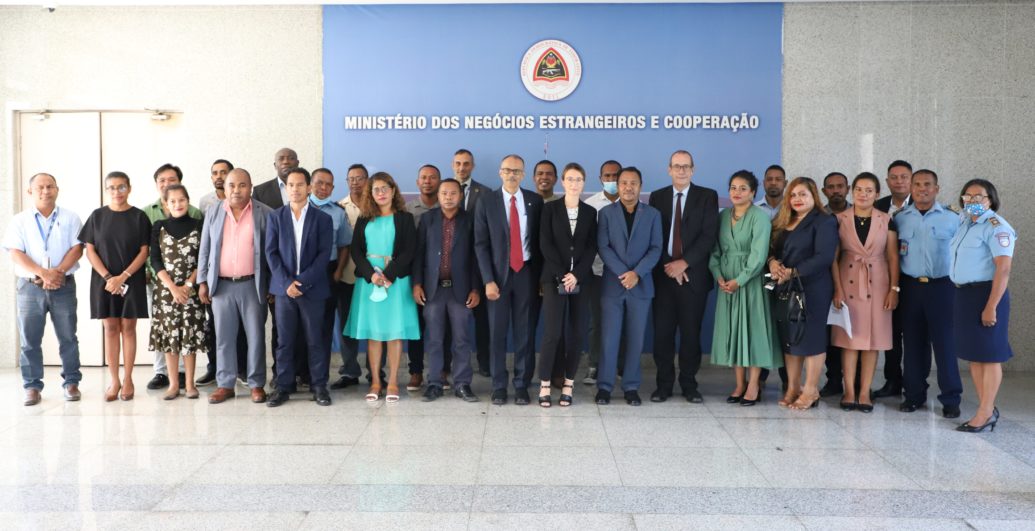 Dili, Timor-Leste, 16 May 2022 – In collaboration with the Ministry of Foreign Affairs of Timor-Leste, the United Nations Regional Centre for Peace and Disarmament in Asia and Pacific (UNRCPD) organized the in-country training programme (ICTP) on gender mainstreaming small arms control from 10 to 16 May in Dili, Timor-Leste. The ICTP, which is part of the EU-funded global project on gender mainstreaming small arms control, consisted of a three-day training on gender and small arms control (10-12 May) and a one-day workshop on National Coordination Mechanism (NCM) and National Action Plan (NAP) on small arms and light weapons (SALW) control (16 May).
The three-day in-country training targeted forty-two participants (17 women, 25 men) consisting of government officials, security personnel, civil society organizations and key UN agencies, such as UN Women and the UN Resident Coordinator Office. The one-day workshop on NCM and NAP on SALW, targeted 17 participants (6 women; 11 men), consisting of government officials and security personnel.
Both activities built on the results of previous UNRCPD technical and legal assistance on the UN Programme of Action (PoA) implementation and Arms Trade Treaty (ATT) accession (2019- 2020), continuing the dialogue on the normative framework on small arms control and explaining further their convergence with global agendas, such as Women, Peace and Security and SDGs, and the need to strengthen a national coordination mechanism.
The three-day training raised awareness of the importance of coordinated data collection, disaggregated by sex, age and disabilities, as an indispensable starting point for evidence-based and gender-responsive small arms control policies, programmes and legislations, in line with the UN PoA. Data collection, reporting and transparency were also emphasized through an exercise on the national report on the UN PoA.
The training concluded with a series of recommendations and action points which formed the basis for the subsequent workshop on NCM and NAP. The one-day workshop consisted of two practical exercises that culminated with the drafting of the Term of Reference of an NCM and draft NAP matrix, based on MOSAIC guidelines. This will serve as a policy brief to guide further work in this area.
For further information, please contact Ms Ida Scarpino, Regional Project Coordinator on Gender and SALW at UNRCPD: ida.scarpino@un.org.